Chuck Sykes – The Management Advantage Consulting
When I first started my consulting business over 15 years ago, my average client owned 3000 acres.  Management options were limitless.  The only constraints were time and the owner's wallet.  Today, on the other hand, my average client is the owner of 300 acres or less.  We have performed deer management on properties as small as 10 acres.  Needless to say, we have many more constraints than time and money when it comes to managing small acreage.
If you recall, last year I wrote another article on small acreage deer management in IL; "Rambler, a small acreage success story."  It this article, I showed how in two years we were able to take a 300 acre property that had really been abused and get it headed back in the right direction.  I even harvested an extremely nice 4.5 year old buck.  Last season, we were given another challenge by Kevin Neill, owner of Mid West Extreme Hunting.  He had an 80 acre tract that he had been leasing for about 20 years and he wanted us to have a look.
Even though this tract had potential, it looked from aerial photography that it was going to be mainly a travel route.  A creek ran through the center of a strip of timber down the middle of the property.  Non-manicured pastures surrounded the timber.  It had no agriculture on it at all.  The only food found on the property was in the pastures.  There was a still bit of cover and native vegetation in the pastures since Kevin was only grazing a few cows.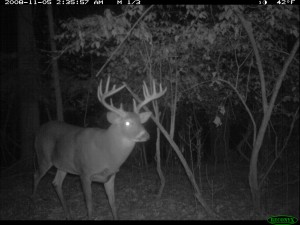 We hung a trail camera and left it out for a couple of weeks.  We were pleased to find out that there were quite a few nice bucks using this property.  But, after hunting the property for a short time, our suspicions were confirmed.  We found out that most of the deer were just traveling through and not actually living on the property.  When the bucks were cruising around looking for does, we saw deer.  During the lock down phase of the rut, we saw none.  Although we saw some nice young bucks, nothing was harvested last year.
We decided to try to make some adjustments before next season.  As you can imagine, we were extremely limited on what we could do.  We needed to get some food in there.  So, we selected a food plot location in an isolated nook of one of the pastures that bordered the creek and the timber.    In June, we drove up hoping to plant a summer plot of Eagle Beans.   But unfortunately, it was too wet to plant.  Instead of plating, we sprayed Glyphosate on the area in preparation for fall planting.
We made a second trip up in August to plant our fall plots and hang a few stands.  The area we sprayed in June was burned our first day back to remove all of the dead vegetation.  Day two found us planting plots with The Firminator.  In order to keep the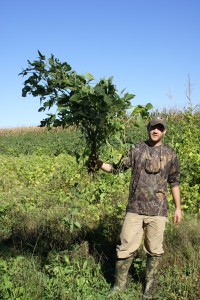 cows out, we installed an electric fence around the plot and hung stands on day three.   We had tree stands in locations that would allow us to hunt any wind but a due South or Southwest.  Casey traveled back up in October to hang trail cameras and spray the plot, which was now shin high, with Plant Power.  We had finally accomplished everything we had set out to do.
Our schedule was set where we would be in IL from October 30th through November 22nd.  Casey had two buck tags and I had purchased one.  We had high hopes of filling all of our tags by the time I left to go back to AL for Thanksgiving.  We were more interested in pulling the cards from our trail cameras that first day back than hunting.  Our first morning, we saw several does and one decent two year old buck.  The wind turned to light and variable, so we climbed down and Casey grabbed the card out of one of our cameras.
We could not get to the computer fast enough to check the card.  Unlike many cameras on the market, our Reconyx doesn't miss anything.  We knew any deer moving past our stands would be on that card.   Like kids at Christmas, we were huddled around computer wide eyed and extremely excited to see what popped up next on the screen.  Although we had probably 25 different bucks on camera, only three were shooters.  What we consider shooters are bucks that are at least three years old.  Score doesn't matter!!!
It was three days later before we could go back due to a south wind.  I was about to have a fit to go hunt the food plot and pull the card from the camera we had there.  So, the first afternoon the wind shifted to Southeast, I headed to the plot.  I could just imagine sitting there watching a knee high food plot and have it fill up with deer before dark.  Unfortunately, the plot had looked so good and appetizing that the calves had run through the electric fence knocking it down and had consumed over 90 percent of the plot.  What a total disappointment.  We saw a few does and a small buck or two that afternoon, but my bubble had been burst.  Another fact that would prevent us from hunting the plot again was the deer were coming into the plot from a direction that we had not planned.  Every deer we saw that day came from behind us.  Not what we had figured on.
After the food plot debacle, our hopes began to fade just a bit even though we had four other great tree stand locations on the property.  We did everything we could to increase our chances of harvesting a nice buck.  We only went to the property when the wind was correct.  There were times where could not hunt for several days due to improper winds.  We washed ourselves as well as our clothes in scent-free detergents.  We kept our clothes in scent tight bags and changed into them once we got to the field.  If we were in the stand and the wind shifted, we climbed down and left.  In my opinion, we did everything properly.
The first week passed without taking a buck.  We saw some really impressive 2 yr old bucks, plenty of yearling bucks, and tons of does.  Our efforts to supply them more food with the plot and grazing only a few cattle had definitely increased the carrying capacity of the property.  We saw more deer than had been seen in previous years on the property.  However, we were still not seeing mature bucks moving during daylight hours.  Week two rolled around and we started to figure out why.  Two things that we can't control are neighbors and the weather.   The weather turned off hot and windy and more importantly, the neighbors starting moving around quite a bit.
The neighbors to the east began getting stands ready for gun season.  The neighbors to the west decided it was a great time to rabbit hunt at least three days per week.  Finally, the neighbors to the south were hunting their 80 acres with the wrong wind everyday and were blowing the deer out on a daily basis.  Our hopes of taking three bucks were completely gone.  They now turned to hoping to just take one.  Our stands from the center of the property southward became useless to hunt.  Deer were only traveling there after dark.  That really limited our options.  We now only had one stand on the north end of the property that was hunt able.  Now, the only wind directions we could hunt the property was west or northwest.
Week three started with very little optimism on our part.  We saw deer but still only young bucks and does.  My time to hunt came to a close with no buck harvested.  Casey had a shotgun tag, so it was my turn to film him.  Opening morning of shotgun season the wind determined that we would have to hunt on the south end of the property.  Shortly after daylight, shots begun to ring out around the property.  We jokingly said that maybe the one of the neighbors would run a deer by us.  No deer came by the first morning.  The only thing we saw was a few cows and one of the neighbors driving his truck around the perimeter of his property about an hour after daylight.  He circled his property like a buzzard for about an hour.  I suppose he was checking for trespassers.
We decided the leave and not come back until after shotgun season.  Our thinking was that if the neighbors didn't kill every buck in the immediate area, the ones that made it could move onto our property and ride out the gun season.  We allowed the property to rest for 12 days until the next shotgun season.  Casey and our cameraman Torry went back the third morning of the second shotgun season.  Luckily, I was back in AL and did not have to endure the 22 degrees with the 30 mph east wind because they only saw a few does.  Something just wasn't right.  Why were we not seeing any of our older age class bucks?  There had to be some explanation why the bucks had disappeared.
The final day of shotgun season, Casey headed back out one last time.  He decided to do things a little differently and go in midmorning and hunt the rest of the day.  He figured it may throw the bucks a curve and catch them off guard in case they had somehow patterned us.  It is truly amazing how changing things up will clear up many of the questions you have.  It appeared that it was not the deer that had patterned us, but some of the neighbors!  Casey found a hunter sitting on the creek bank about 50 yards from one of our stands.  Despite the fact he was smoking cigarettes, he had already taken two does and was waiting to fill his buck tag.   The fall of 2010 is one that I am truly grateful is over.  We invested a tremendous amount of time and money into our little 80 acre tract with absolutely no return on investment!  We did all that we could do to ensure a productive hunting season.  However, the one factor that we did not count on was trespassing neighbors.  That is just one more reason why managing small acreage is extremely challenging.   I'm not writing this article to discourage managing small acreage.  I just want people to be aware of many of the challenges.