Chuck Sykes – The Management Advantage Consulting
Casey and I spent Monday afternoon through Thursday noon at Rancho del Ceilo near Kent, TX.  Tuesday, I killed my first Aoudad at 12:15.  It took us until 5:30 to get him off the mountain.  The shot was around 400 yards.  I was on one mountain and he was on the other at about 6500 ft.  It was an incredible hunt!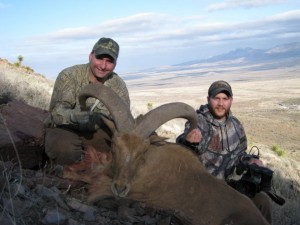 The sheep weighed approximately 300 pounds and measured 28 inches in length and 12 inches in circumference.  From what little I know about them, that is about the same as shooting a 160-170 inch whitetail.  The ranch manager decided that he wanted me to shoot a management mule deer and do half the show on deer and the other half on Aoudad.  I asked if Casey could shoot because he had never killed a mule deer.  So, Wednesday morning we were riding the property and glassing and found a really old buck that was going downhill. A perfect animal for mule deer management.  We made about an hour stalk and Casey killed him.  At the shot I saw another buck in the canyon below us that was crippled so Ralph told him to kill him as well. By 8:30, Casey had taken is first two mule deer bucks.  Ralph said that the bucks Casey shot were not a good representative of what his clients would typically kill, so we kept hunting.  We found a beautiful management buck an hour or so later and place a stalk on him.  Casey killed his third buck of the day @ 10:30.  He was a beautiful mainframe 8pt. that scored 140.  What a trip!